UNIVERSITI PUTRA MALAYSIA (UPM)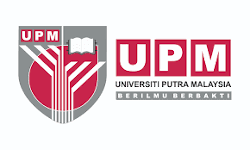 DESCRIPTION
Multi-disciplinary university with a distinguished 87-year history, University Putra Malaysia is globally-recognised for its excellent educational and academic disciplines and programmes that have contributed immensely to knowledge and skilled human capital development since 1931. As one of Malaysia's largest and premier universities, University Putra Malaysia has a long standing reputation for teaching and research excellence and has over the years become a favoured choice for students from all over the world.
There are approximately 14,063 undergraduate and 10,811 postgraduate students. Approximately 30% of these are international students, from about 70 countries, with most 27% being at the post graduate level. As a world class centre of learning, University Putra Malaysia offers a wide portfolio of academic disciplines for its nearly 25,000 students who are enrolled in its 74 bachelor, 7 diploma and 42 coursework programmes and another 5 research programmes at Master and PhD levels, comprising 265 fields of studies. Today, the university inherently possesses all the qualities and resources to compete head on with other renowned local and international institutions of higher learning.
List of Faculties include: Faculty of Agriculture; Faculty of Forestry; Faculty of Veterinary Medicine; Faculty of Economics and Management; Faculty of Engineering; Faculty of Educational Studies; Faculty of Science; Faculty of Food Science and Technology; Faculty of Human Ecology; Faculty of Modern Languages and Communication; Faculty of Design and Architecture; Faculty of Medicine and Health Sciences; Faculty of Computer Science and Information Technology; Faculty of Biotechnology and Biomolecular Sciences; Faculty of Environmental Studies; Faculty of Agriculture and Food Sciences (UPMKB, Sarawak).
UPM is now among Asia's top 50 universities, 34th ranked in Quacquarelli Symonds (QS) Asia University Rankings 2018/2019 and world's 202th in QS World University Rankings and also has been rated as a 5-star institution in the QS Star Rating.
The UPM will participate in the project through The Faculty of Engineering, which consists of Departments of Aerospace, Chemical, Mechanical and Civil Engineering. Together they work on Renewable Energy Technologies research and their applications.
ROLE
To take part in the Project Network development in Asian Region;
To take part in the modernisation and enhancing course structures at Bachelor, Master and PhD levels and of syllabus of the selected modules on Integration of Sustainable Renewable Energy Solutions into the Built Environment with the aim to re-focus on teaching students modern and future advanced technologies, taking into account the latest developments at the international level. Also UPM will play a considerable role in the distance improvement of Skills Development of PhD students in Integration of Renewable Energy Technologies into Buildings.
To participate in setting up teaching laboratories and delivering the Laboratory work notes at UPM;
To organise teaching processes at UPM;
To participate in quality assurance of all teaching materials, methods and processes at UPM;
To coordinate the promotion of project and dissemination of its results at national and international levels.
STAFF
Prof. Mohd Amran Mohd Radzi
Prof. Suhaidi Shafie
Dr. Ermira Junita Abdullah
Dr. Syamimi Saadon
Dr. Haslina Jaafar